Top 5+ Best Android Emulators for PC-Free Download on Windows 7/8/10 & XP
Best Android Emulators for Pc/Laptop :  We all know that android became most popular operating system for smartphones, so thousands of apps and games available for android phones. To run android apps and games on PC we need to use android emulators or app players on your computer. I'm here with another latest update on Best verified android emulators for Pc to install and run apps on windows Pc/Computer. Recent days due to the kind of demand for android apps, there are many android emulators present in the internet. People are getting confused on which one is best and what kind of emulator should we use to run android applications. For all of those who are in confusion of which one to select, we are presenting Top 5+ Best Android Emulators for Pc (Windows 10/7/8/8.1) . You can choose any one of them to use android apps and games on your pc.
Top 5+ Best Android Emulators For PC on Windows 10,8,8.1,7 & XP Computers:
1 )
Bluestacks Android Emulator
Bluestacks is the number one best android emulator for pc in the present days. More than 90 million users are using this app. Using of Bluestacks android emulator is simple and very easy. You can run all android apps and games on Bluestacks app with just one click by clicking on the appropriate app that you need. Downloading of Bluestacks is normal as any other application. You can download Bluestacks from official website. It is available in online and offline versions also. Bluestacks also has unique feature which you can also install your favorite android app using apk file also by simply installing android apk files using Bluestacks app. Also read about -> Fix Bluestacks Graphic card Error
Download Bluestacks For Windows Pc/Laptop
2)
Andyroid Android Emulator
Andyroid is also one of the best android android emulator for pc. Andyroid was designed best for android games, you can play all best android games on your windows pc using Andyroid Emulator. You can also control the screen size of your desktop with this app.
Download All android Apps-> Mobogenie App
You can download and install android apps and games using windows browser by using Andyroid Emulator. Downloading and installing of Andyroid is simple and easy, before you download you need to have Virtual Box installed on your PC.
Download Andyroid for Windows Pc
3)
Droid4x Android Emulator
Droid4x is the emerging android emulator currently. It has lot of unique features and specifications. If you want an emulator with lot of features Droid4x is best suits for you.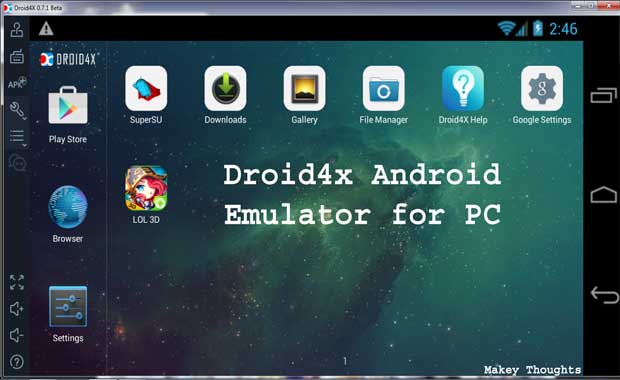 Most Popular Apps–> Facetime for PC, Allcast for PC
Some of the main features of this emulator are you can resize the windows screen, use keyboard to play games and other applications, you can also record the screen when your are using an app or playing games and can send it to your friends.
Download Droid4x Android Emulator
4)
Nox App Player
Nox App Player The best Android emulator leading in technology and performance. A free tool for users to enjoy the numerous Android games and apps from their desktop with ease. New and Best Way Ever to Play Mobile Games on PC.
Download Nox App Player for Pc
5)
KoPlayer Android Emulator
KOPLAYER is one among the best Android Emulators for pc. Koplayer installs all Android games and apps on your Windows Pc/Computer. It is built on x86 Architecture which supports advanced features like OpenGL & hardware acceleration. Koplayer is more stable and compatibility than any other Android Emulators. KOPLAYER Android Emulator internal integrated Google Play store to compatible with all apps and games.
Download Koplayer for Pc/Laptop
6) Youwave Android Emulator

Youwave is also one of the popular android emulator in the present days. It is simple and very easy to use download and install is simple .
Best alternatives for Whatsapp -> Telegram, Kik Messenger, Snapchat
Youwave shows has it's own directory in which all apps are stored. You can download and install your favorite android apps ang games by searching on youwave android emulator.
Download Youwave Android Emulator
7)
Genymotion Android Emulator
Genymotion is mainly designed for testing purpose. So if you are an android developer, then you can download and install this app on your computer. It also works for running android apps and games on pc, before you use them you need to configure your android device to use app or to play games. Installing of apps can be done by using command prompt or by directly installing the apps.
That's it guys, I hope you enjoyed this article on top 5+ free best android emulators for pc. If you have any queries or suggestions regarding the android emulators, feel free to share it with us. Please share this article with your friends on social media. Thanks for reading this article.